Congratulations to everyone who committed to 16 weeks of a total-lifestyle transformation. Completing the IsaBody Challenge® takes hard work and dedication and we are excited to announce our 2018 European IsaBody™ Finalists for Judging Period 1.
Each of these amazing finalists will receive £1,000/€1,100, a professional photoshoot as well as the chance to compete for the 2018 European Grand Prize Award.
Meet your 2018 Judging Period 1 IsaBody Challenge finalists!
Judith Peereboom

Age: 45
Height: 1.74 / 5'7''
Location: Egmond aan Zee, The Netherlands
Challenge Start Weight: 198.02 lbs / 90 kg
Challenge End Weight: 178.22 lbs / 81 kg
Weight Loss During Challenge: 19.8 lbs / 9 kg *
Total Challenges Completed: 1
When Judith connected with her friends Esther and Tommy, she was at an extremely low point in her life. "I was a broke and exhausted mum. I thought I could do it all alone, raising my son with down syndrome on a very low income."
Judith was looking for something, she just didn't know what. "I saw Tommy's results and my gut feeling said I have to do this!" She bought a 30-day program and started to experience the results for herself.
"My energy increased and the results I was experiencing were so overwhelming that one day I had I had to pull over in my car and shared my gratitude in a video message!"
By achieving her own results and helping others do the same, Judith is now building a successful business with Isagenix and has never looked back. "I feel strong, happy and I have a mission and a dream to help as many people as I can. Thank you so much Isagenix!"
Simeonas Kozemiakinas
Age: 38
Height: 1.72 / 5'6''
Location: London, United Kingdom
Challenge Start Weight: 251.93 lbs / 114.5 kg
Challenge End Weight: 195.60 lbs / 88.90 kg
Challenge Maintenance Weight: 181.74lbs / 82.60 kg*
Weight Loss During Challenge: 56.33 lbs / 25.6 kg*
Total Weight Loss: 70.19 lbs / 31.90 kg *
Total Challenges Completed: 1

A sceptic to begin with, Simeonas wasn't sure if he could achieve results with Isagenix for himself. But with the support of his wife and family behind him, he decided to give the program a go.
"I work in the Construction Industry which can be really stressful when you're in charge of big projects. After starting my IsaBody Challenge, I started to feel less stressed and more energised. I wanted to do more after work rather than sitting on the sofa in front of the TV."
Simeonas started to spend more time with his family, especially his kids. With five-star support from his friends Tomas and Rasa there was no stopping him on his journey to better health.
"After my third month of the challenge I had to change all my clothes! It was then that people who were laughing at me when I began my challenge started asking about the products! I went to a work meeting and some of my colleagues didn't even recognise me!" "I've learned a lot during this IsaBody Challenge, like how to eat healthier and listen to what your body actually needs. I know that it's only the beginning of a new life for me and I cannot wait to challenge myself further!"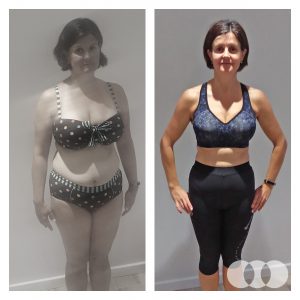 Emma Bowyer
Age: 48
Height: 1.62 / 5'3''
Location: Winchester,United Kingdom
Challenge Start Weight: 157.32 lbs / 71.5 kg
Challenge End Weight: 127.17 lbs /57.80 kg
Weight Loss During Challenge: 30.15 lbs / 13.70 kg*
Total Challenges Completed: 1
Prior to Isagenix, Emma was feeling heavy, tired and lacking energy. She longed to be the energetic gym goer she once was so decided to give Isagenix a go.
"A friend introduced me to Isagenix when I had just returned from a holiday in France and was at my heaviest! My initial goal was to lose weight and be able to run around after my kids."
Emma's results soon started to show and she went on to lose over 13 kg*. "My 4-year-old son weighs 15kgs, so it's no wonder I feel better and have more energy! This program has become much more than just weight loss for me. I work out more now than I have ever done in my life. I am alert in the mornings and I don't have to go to bed when the 10 o'clock news starts!"
With the support of her lifelong friend in Canada, Emma was able to stay motivated throughout her challenge, even through the cold winter months. She loves the flexibility Isagenix has given her.
"This system is so flexible you can take it anywhere and only need water. During my IsaBody Challenge I had a holiday in Madeira. I took products with me and hit the gym every day. We ate out in the evening, but having two shakes a day meant I could enjoy my evening meal. I returned home having lost weight!*"
Emma plans to continue to share Isagenix whenever the opportunity arises. "I have embedded this system into my life, so there's no way I will stop having one or two shakes a day. My plan is to maintain and build lean muscle."
*The weight loss and lifestyles results depicted in this publication may vary depending on level of effort, adherence to a controlled-calorie dietary regime, and physical constitution. The results were achieved when Isagenix products were included as part of a healthy lifestyle that incorporates regular exercise, appropriate portion control, and a varied and balanced diet to meet desired goals. Those who are pregnant, breastfeeding, or have a medical condition are advised to consult a doctor before using Isagenix products or making any other dietary changes.